Sing for Joy!


Ellen Brown

If you can talk, you can sing. If you can walk, you can dance.
- proverb from Zimbabwe



birdsong
Birds do it, and so should you!
First, don't worry about how you sound! Second, don't worry about how you sound! Third, don't worry about how you sound!
So, have I mentioned that you shouldn't worry about how you sound?
Singing is an elemental part of being human. Every culture, throughout history, has included singing in socialization and ritual. It is as natural as talking, laughing and playing games.
Click here: A Brief History of Singing
------------------------
Still not convinced you can, may and should sing? Or do you need some ideas of when, where and how to sing? Here are some:

Sing alone
Singing is good for your mental, emotional and physical health. You can use it to pass the the time or express your deepest feelings. Singing fills your lungs with air, your body with pleasure, and your heart with joy! Here is more information about the benefits of singing:
Peeblesshire News: Singing for health
Singing For The Health Of It
BBC News | HEALTH | Singing through the pain barrier
Click here: Untitled Document
Sing with family and friends
Don't wait for a formal invitation or a special occasion. Just start a favorite song. Sing in the car or the living room, sing a lullaby to your little one every night (or even better, to your older children or your spouse!). Sing to your dog as you walk. As the greyhound below demonstrates, he might just sing along!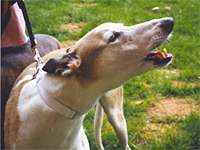 picture coutesy of GreyhoundGang
What should you sing? Whatever's in your mind, or you can start with some basic folk songs and rounds:
Great Sites For Kids!
Click here: Children's Songs
Click here: Welcome to KIDiddles (TM) - Not your Average Kids' site!
Songs for Children Theme Page
Sing for occasions
Don't just stop at Happy Birthday! Have singing parties, and go through favorite songs in a category, such as Broadway tunes, the songs of your ethnic heritage, the popular music from your teenage years. or to sing through a Gilbert and Sullivan operetta. There as many ideas for music parties as there are styles of music.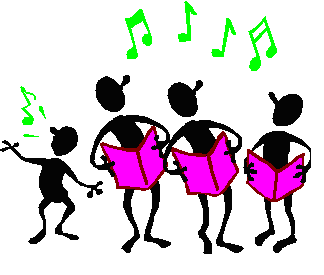 Sing with an organized group
Join a community chorus or the choir at your place of worship. Many are willing to make accomodations for those who do not read music.

I'll sing, but my husband (wife, son, daughter . . . ) won't!

Sadly, our culture sometimes creates an atmosphere that discourages participation if one's skills are not the best. This is tough to get around, especially for children. But here are some ideas
Make it a part of daily life when your children are young. Make it clear, by word and example, that singing is like video games or playing catch -- just something people do for fun.
Never tolerate one of your children insulting another's singing, any more than you would tolerate one of them calling the other stupid for a mistake on math homework.
Along the same lines, never let a child who becomes discouraged about singing due to the teasing of siblings give it up, any more than you would encourage them to give up math or soccer due to an insult.
Remember that we are talking about recreational singing. Not every golfer is as good as Tiger Woods, yet the golf courses seem to be full! We are singing for fun -- just as in athletics, feeling your skills improve is exciting, but not the point.
Do real men sing?
There is sometimes a stigma on singing for men and boys, just one of those strange things that has cropped up in our society -- in most cultures throughout history, singing has always been a masculine activity. Do real men sing? The answer is a resounding "Coitenly!"

By now I hope you are convinced that everyone should just open up and sing! That said (and I
still
don't want you to
worry
about how you sound, really!), there are preferable ways to sing. This is especially important for children, so they can sing a tune rather than talking, and to keep the throat healthy.
Children, and most women, should sing in a light, high range, above the talking voice -- think Vienna Boy's Choir, not screamy kids on commercials! That light sound is not an affectation, it is the natural sound of a child's voice.
Sitting up tall will help keep you from getting tired. Most people I have met who dislike singing slouch when they sing.
Songs should never be shouted or talked.
When singing a round, don't block your ears -- hearing the other singers is part of the fun!
Singing Voice: Singing Links
Singing and Health.

Share the joy and SING!