RINGING FOR KIDS!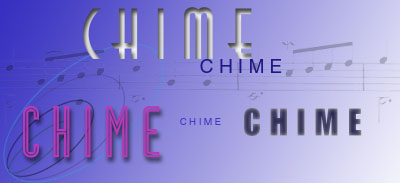 Table of Contents
Go Back to the Top of the Page







For information on basic playing techniques
To hear a demonstration of a chime choir

WCU TI:ME 1B CLASS DEMONSTRATION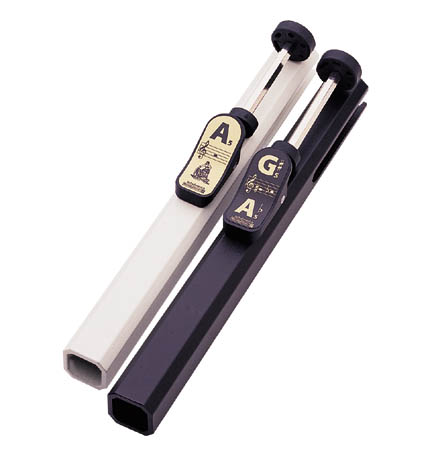 SIMPLE CHOIR CHIME TECHNIQUES
When a ringer uses a straight ring, there will be no mark or notation in the music. However, if multiple techniques are going to be used in a selection, the letter R will appear above the note that begins the normal ringing and dampling technique.
A frequently utilitzed mark is LV. This term is Let Vibrate or Laissez Vibrer, which means that the ringer should not damp the choir chime until he or she sees the R sign again. The sound produced is an accumulating array of pitches.
Another enjoyable technique is called martellato and is indicated in the music with a heavy black V. The choir chime ringer lightly taps the chime against the foam pad. The resulting sound is a stopped and short sound.
If the ringer lifts the chime immediately after tapping the foam, the tone will continue but with a diminished volume. This technique is called martellato lift and is indicated in the music with the heavy black V followed by an upward arrow.
An easy technique for beginning ringers is the shake, which is indicated in the music with Sk or a rippling line. The choir chime player moves the instrument quickly back and forward so that the clapper can ring both sides of the chime.
The final technique to be introduced to chime players in their initial learning is Gyro, which can be also shown with a circular arrow above the indicated pitch. To achieve the desired sound, the ringer holds the chime vertically after ringing and moves the metal in a circular fashion. The listener hears a subtle variation in tone quality and volume.











BELL ASSIGNMENTS
RINGERS WILL FIND A STAFF ABOVE THE WRITTEN SCORE. THIS STAFF WILL INDICATE ALL OF THE NOTES THAT WILL BE USED IN THE MUSICAL SELECTION.



EACH STUDENT IS ASSIGNED ONE OR TWO CHIMES. STUDENTS MUST LOCATE THEIR CHIME NOTES ON THE STAFF. THEN, AS THAT NOTE APPEARS IN THE MUSIC, THE STUDENT PLAYS AT THE APPROPRIATE TIME.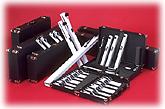 Chime Rules
1. Do not put your thumb on the letter names. (It will wear off.)
2. Do not damp the chime on your face. (Sanitary reasons.)
3. Damp the chime on your shoulder or arm.
4. Be sure to have a firm grip on the chime.
5. Respect the instrument at all times.
6. Anyone not using the chimes correctly will not play them.










PICTURE GALLERY
Go back to the top of the page
















Special thanks to the following locations for their contributions to this web site:
http://www.handbellworld.com
Schulmerich Bells, the world's largest producer of handbells, chimes, carillons, bells.
Welcome to Malmark
http:ringem.org/agehr/chime/index.html
Suzuki Musical Instruments 2001 - www.suzukimusic.com
Created by Tracey L. Miller and Donna Burkholder
Copyright July 2001
All Rights Reserved